G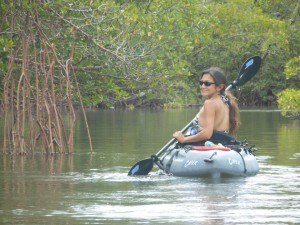 ood Time Charters kayaking tours were recently featured as the centerpiece article in the September 18, News-Press Go Coastal section. The article was written by our own Captain Cristina who is a biologist, master naturalist and owner of Good Time Charters.  Check out the article below or read it at News-Press.
Explore the Wonders of Estero Bay with a Kayaking Tour
Looking for a serene escape? Kayaking offers therapy for the body and soul.  In Southwest Florida, the Estero Bay is an ideal backdrop for viewing incredible flora and fauna.
A typical kayaking tour would include paddling at a leisurely pace through Hell Peckney Bay's mangrove islands to get into remote spots to view birds such as snowy egrets, little blue herons, great blue herons, yellow-crowned night herons, black-crowned night herons, green herons, brown pelicans, cormorants, great American egrets, tri-colored herons and reddish egrets.
This time of year we have been able to see bald eagles, ospreys and even a random sea turtle coming up to take a breath.  Dolphin sightings can also happen too.
In these hot summer months, we have had the opportunity to see manatees. They are often spotted grazing on sea grass or nursing their calves.  Sometimes they will even swim up to a kayak and inspect.
It is important to remember not to disturb or crowd wildlife.  Give them their space and if they choose to approach you it can be a wonderful reward.
In addition to the wildlife sightings, kayaking provides good exercise.   It is low impact and can improve your cardiovascular fitness. Paddling builds muscle strength particularly in the back, arms, shoulders and chest and improves core and leg strength.  This is due to the act of rotating the torso and applying pressure with the legs.  It is also a great stress reducer.  If you want to make it more challenging, you can paddle upstream in more open water.
For a kayaking tour, Good Time Charters recommend a single kayak per person.  As we go at an easy pace, kayaking can be enjoyed by everyone.
Our Certified Florida Master Naturalists are always on hand to guide the tours.  They are educated and well versed in explaining information about upland, freshwater and coastal ecosystems.  By being able to explain what goes on in the wild, this offers passengers more insight and a better appreciation of the importance of Southwest Florida's ecosystem.
For information on booking a dolphin cruise, kayak tour or a fishing charter visit www.goodtimecharters.com or call Cristina at (239) 218-8014.