CHeck out this cool video of a massive feeding frenzy right next to our boat! IMG_2743
Oh the red tide struggle is so real. Growing up here for 43 years now, I am no stranger to ever changing water conditions. The most recent red tide invasion of 2017-2018 was really bad, frustrating, sad, and unfortunate. We have seen so much recovery this year though. Tons of bait fish around, lots of wading birds nesting, and we have been delighted and blessed with a couple new born dolphins in our resident population earlier this year. There have been lots of brown pelicans, egrets, herons, and skimmers taking advantage of all the bait fish around!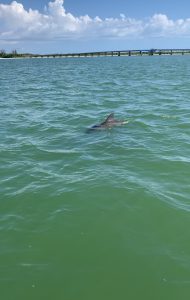 While we still haven't noticed a swing up in the sea trout population, the red fish and snook are everywhere right now feeding. This week the plankton populations have been moving in and near shore causing a spike in bait fish, and the birds and sport fish are having a feeding frenzy. So if you love backwater fishing in Florida, now is the time. October and November are my favorite months here to fish, boat and hit up Fort Myers beach!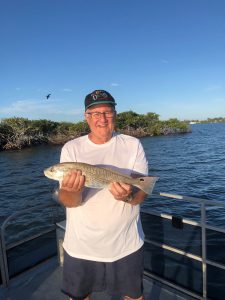 The latest red tide reports from Florida Fish and Wildlife Commission have some low concentrations detected offshore, so hopefully with our current wind direction it will stay out there and dissipate. Here is the latest report as of yesterday: https://myfwc.com/research/redtide/statewide/
Red Tide Status Update for October 4, 2019
Current Conditions
The red tide organism, Karenia brevis,  was observed at bloom concentrations in Southwest Florida and at background concentrations in Northwest Florida over the past week. Additional details are provided below.
In Southwest Florida over the past week, K. brevis was observed at background concentrations offshore of Pinellas County, background concentrations offshore of Hillsborough County, very low to low concentrations in and/or offshore of Lee County, and background to high concentrations in and/or offshore of Collier County. For additional information, view the Southwest Coast
There are so many variables that can impact red tide (agriculture, natural phenomena, fertilizers, you name it) it really can be a bear to tackle, politically and economically. As a resident of Fort Myers Beach, I try to reduce my footprint as much as possible. I have a Florida Friendly yard (yes, it is a real thing) meaning I don't need or use irrigation or fertilizers, and I have Florida native plants that are beneficial for birds and pollinators. It works too! I love to sit in my yard and see different species of butterflies, and birds finding an oasis among all the useless rock yards that surround me. I am hoping to have a rain barrel soon as well. Now I am far from perfect, but the more I learn, the more I can tweak my lifestyle and hopefully help other residents understand how we can lessen our impact and contribution to the problem. We might not be able to tackle and fix bad water conditions overnight, but we can at least be smarter consumers, and make better decisions as residents.
Now, often times, beach goers, even residents, confuse the difference between red tide algae and red drift algae. It's all algae right? Well, yes, but different kinds have different implications.The easiest difference is that the red tide algae is microscopic. That means you can't see it with the naked eye. Red drift algae is macroscopic, meaning you can see it. Red drift algae can be annoying and smelly, especially at low tide in the middle of August, one of our hottest months, but in general it is considered to be beneficial to the overall ecosystem. Although, ask any boater and it is frustrating when the drift algae gets sucked up our motor intakes and causes an overheat lol.
It is still sea turtle nesting season, so PLEASE, no head lamps or flashlights on the beach at night so you do not disturb any nesting activity. According to our local Turtle Time organization we have had 362 nests hatch so far! You can read more about their findings for 2019 for Bonita Beach and Fort Myers Beach here: https://turtletime.org/one-of-these-is-not-like-the-other/ We also have had lots of manatees around this summer and just a couple weeks ago we viewed a mating group drifting right off Fort Myers beach! What a treat to be able to spy on them! Regardless of the type of animal, wild animals want food, shelter, and to reproduce. Here at Fort Myers Beach, we have lots of plankton, bait fish, and we have beautiful productive estuaries providing food and safety for an incredible diversity of wildlife, from snails to dolphins.
For all you shellers out there, the sea shells around the Fort Myers Beach and Bonita Beach are hot!! Our shelling cruises have been very successful so whether you go out with us or on your own, be on the look out for treasures of shells. Lots of cone shells, whelks, and we even have found some zigzag scallop shells! The diversity in the different kinds of shells around fort Myers Beach, Bonita Beach and Naples beach really makes this such a unique place to visit. I like to swim with goggles and look for shells right off the beach.
The water and air conditions right now are pretty amazing imo. But as always, it depends on who you ask. The media will make it all sound doom and gloom, as will some residents that love to complain. We all have them in our neighborhoods am I right lol? I recommend checking the science, checking the source of the data, and making your own educated decisions. The town of Fort Myers Beach has some good information and links to help you stay in the loop. You can reach their website here: https://www.fortmyersbeachfl.gov/982/Water-Quality
Surface water temperature is 80 degrees, air temperature is 86 degrees, and the seas are calm. Seriously, can you ask for better? The water here off Fort Myers beach and in Estero Bay is beautiful and the dolphins are out and about! We hope to have you out for a tour so you can see for yourself.