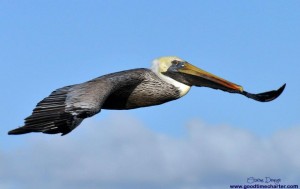 Captain Cristina of Good Time Charters recently assisted a bird rookery nesting count in the Estero Bay Aquatic Preserve. Estero Bay is the first aquatic preserve established in Florida. It is a shallow estuary fed by five minor freshwater tributaries but influenced more by tidal action. Its diverse habitat is home to a wide array of birds.   On the nest count, Estero Bay staff biologists and volunteers spotted nesting Snowy Egrets, Little Blue Herons, Great Blue Herons, Yellow-crowned Night Herons, Black-crowned Night Herons, Green Herons, brown pelicans, cormorants, Great American Egrets, Tri-colored Herons and Reddish Egrets.
During this trip, 96 nests were counted on seven islands. There are a total of 24 islands monitored monthly by the Estero Bay Aquatic Preserve staff and volunteers. This effort helps in making land management and conservation decisions.
Captain Cristina has been a volunteer biologist with the group since 2008. She has been involved because of the importance of protecting and preserving Estero Bay and keeping her tour guides and captains knowledgeable about local bird populations. Take a Good Time Charters Eco tour and see the wildlife of Southwest Florida including dolphins, manatees and a variety of birds! Our Master Naturalists are knowledgeable and fun. This is an experience like no other right here in Fort Myers Beach. This story was also featured in the local paper and you can read the full story here.