Zachary Diamond is a Naturalist Narrator representing Good Time Charters, a well-established eco-tourism and fishing outfit on Fort Myers Beach, Florida. Since 2013, he has connected and educated people to the natural beauty and history of Florida.
On a typical morning in April, the captain and I are preparing to disembark on a three-hour dolphin and shelling cruise. In tow, 40 eager passengers from all walks of life sit jovial around the large open-air vessel Phoenix. Our shared destination, Big Hickory Island, a pristine barrier island only accessible by boat and well-known for excellent shelling and proximity to the calm blue-green waters of the Gulf of Mexico, sits firm in everyone's minds.
Early into the trip, we approach a bird rookery. Though relatively small, this "bird island" supports well over one thousand individuals overnight – with thirteen different species represented. Here we find the densest nesting colony of Brown Pelicans within the fifteen square mile Estero Bay. Over two years ago, the State of Florida designated this rookery a Critical Wildlife Area (C.W.A.) and since then, nesting among the Brown Pelicans has increased 40% – an outstanding short-term gain we are determined to see persist.
Continuing south, the captain and I, as well as our guests hear a piercing splash! Upon looking to the stern, we have two Atlantic Bottlenose Dolphins jumping and surfing in Phoenix's wake. Dark grey in color displaying pink bellies and launching several feet into the air, the two dolphins appear to be having a blast. By now, every eye on the boat is fixated towards the action, goggling at every motion. Now and again, one of the two will surf beneath the waves, though still clear, on its side or even upside down. After a dozen jumps, the dolphins fall off and are observed a few hundred yards behind us and we maintain our journey.
In time we reach Big Hickory Island, situated directly south of Lover's Key State Park. The boat is beached, and the passengers begin to unload onto the soft quartz sand below.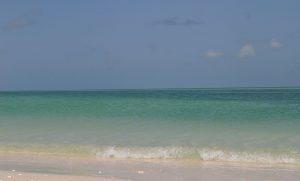 After an hour of shelling, swimming, and roaming, everyone is back, seated, and ready for departure. Partially disintegrated Quahog Clams, Lightning Whelk columella, gleaming Florida Fighting Conchs, and coveted Sand Dollars are among the finds that I commonly identify to interested parties.
Upon approaching the Coon Key slow-zone, I start to make my rounds to discuss the biology of Lightning Whelks. With two Whelk shells in hand I explain, "This large shell is approximately 40 years old… And this smaller shell is only about 1 month old!!" I begin to slowly move my hand around the larger shell as if I was dialing a rotary phone, showing how each whorl can represent up to 5 years. The audience is captivated upon the discovery that the muscular animal within builds one shell over its lifetime and that it never leaves that shell in life. Though what really leaves a lasting impression is when the Lightning Whelk's diet is brought into light – it is a quick-moving predatory carnivore that enjoys eating other snails and bivalves alive!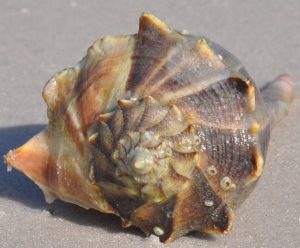 Once all the questions are answered, Phoenix is steadily approaching the marina. The captain and I have successfully stewarded a sliver of the overall daily influx of Southwest Florida tourism and to us, that's making a difference. We strive to build a collective compassion among tourists and residents alike, for that is the only way to continue to protect and conserve these grand places and their many unique marine creatures. This concept was summarized best by Baba Dioum, a forestry engineer in Senegal, when he firmly stated, "For in the end we will only conserve what we love. We will only love what we understand. We will only understand what we are taught."