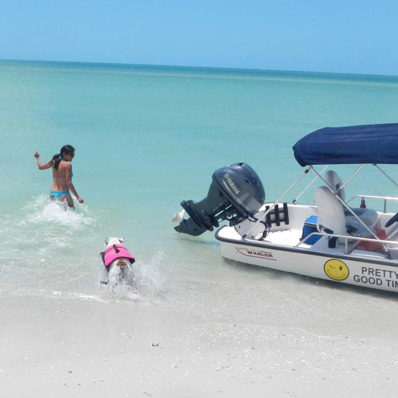 Captain Cristina
Hey! I'm Cristina and am a Florida native originally from Jacksonville, Fl. Currently, I am battling it out with stage 3 rectal cancer but I still run tours when I can! If you have a good word for me please feel free to share. I do my best to make you feel like you are going boating with friends when you are on my tour. I began developing dolphin eco tours near Fort Myers Beach for Good Time Charters in 2006 with a goal and mission to offer authentic eco tour experiences, that educate the public in a fun and affordable way. I also own Fort Myers Beach Yoga llc and am an aerial performer so I stay very busy but love what I do. I have a degree in Biology from the University of North Fl, conducted most of my research in the FL Keys and the Bahamas, and worked for local and state govt agencies for a total of 9 yrs during which time I got transferred here to Fort Myers Beach. I love to travel often, and have been to most of the States, as well as abroad to Costa Rica, Honduras, Cuba, Ecuador, Peru, Chile, Australia, British Columbia, Puerto Rico and the Family Bahamian Islands. Travel is life for me!
Crowned Buzzard Queen 2006 of Goodland, FL, I am also a certified Florida Master Naturalist, an aerialist performer and instructor, have volunteered with local biologists in Estero bay to conduct rookery monitoring as well as volunteer on local Environmental Advisory committees. I have a candid sense of humor, am told I'm a wealth of knowledge about the local fish, wildlife, and environment, and make for a fun and insightful experience!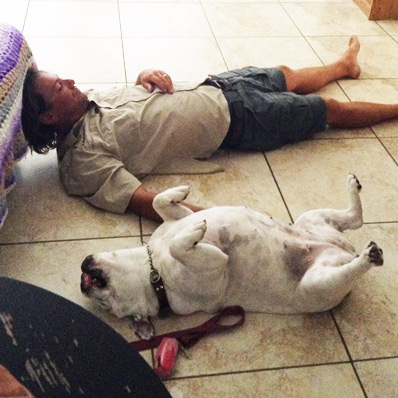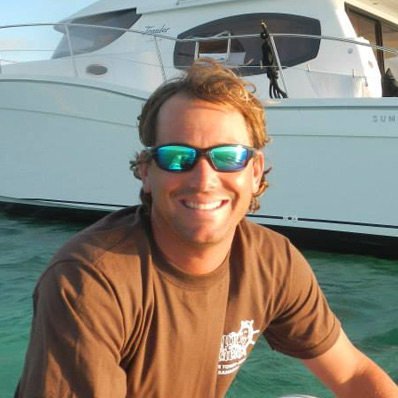 Captain Mike
Hey everybody! I am originally from Connecticut, and am a former Coast Guardsman. I worked on an ice breaker in New York Harbor before getting a transfer here to defrost on Ft Myers Beach as part of the Search and Rescue team. After my service with the Coast Guard I decided to stay in Fort Myers Beach. I began guiding in 2003 and am our primary fishing guide. I am a certified Coastal Florida Master Naturalist and am a closet birder lol. Over the years, I have been fortunate to have built up a long list of clients and many return customers. I now book up months in advance and love what I do!
The community votes me best backwater fishing guide in Ft Myers Beach and I love to take out kids to get them outside. My patience and hard working ethic contributes to my success as a guide and I work great with all ages and skill levels. I am very knowledgeable of the local waterways and wildlife and will to my best to provide you and your family with an experience that you will cherish for a lifetime.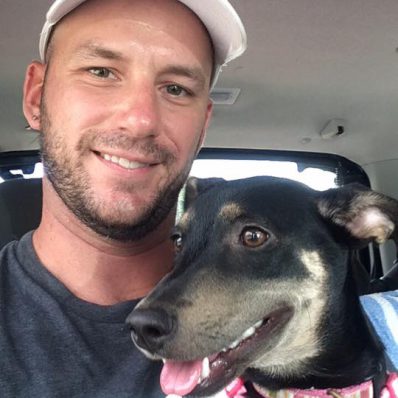 Capt Ty
Hi everyone! I'm Captain Ty. I grew up in Bath, NY then studied abroad in Barcelona, Spain where I graduated with a degree in Language and International Trade from SUNY Oswego. I was on the NCAA competitive Diving team and was also a high school diving coach and substitute teacher for Oswego School District.
After college I lived in Myrtle Beach…. Became an investment banker in Charlotte, NC. Worked nights teaching scuba diving and swim lessons. My real passion is teaching and underwater & environmental conservation.
I quit banking and became an SSI scuba instructor. I went diving and traveling all over the world in places like NC, VA, CA, Bahamas, Carolina Coast wrecks, Gainesville & Palm Beach FL, Hawaii, Bonaire, Indonesia, Galapagos Islands, Nicaragua, Costa Rica and 11 countries in Western Europe.
I moved to Australia for all of 2013 where I worked as a dive instructor and deckhand on 2 sailing ships diving every day on the Great Barrier Reef. I lived in my van for 10 months (yes, it was down by the river). Moved to Amsterdam, Netherlands for a couple months. Then, moved to the Virgin Islands for 3 years where I became a PADI dive instructor and also gained my 100t Captain's License. Drove and dove the VI reefs on a 34' diveboat, worked for 3 other awesome charter companies driving private guests around the US and British Virgin Islands on 26-35' powerboats and a 53' motor yacht. Learned how to kiteboard. Adopted an island dog, referred to as a "Coconut Retriever", named Kaia (my world).
Shortly before Hurricane Irma hit the islands, I moved back to Rochester, NY for a bit to be with family. Was a UPS man during an Upstate NY winter, don't ask me why. Spring refused to come so I went to endless summer. Visiting cousins down in Ft. Myers, I found this wonderful job and fell in love with the area now here I am! What better way to spend the day than to take people out looking for dolphins, manatees and enjoying SWFL wildlife??
Thanks for taking the time to get to know me!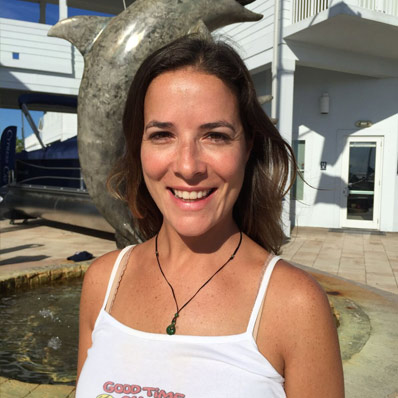 Capt Laura
Hey guys! I am originally from Connecticut and grew up going to the beaches on Long Island Sound. Once I started visiting my brother on Fort Myers Beach, I completely fell in love with the all things SWFL. In 2010 I made the decision to make the move to live where I vacationed!
I love to travel, paddle, laugh and meet new people. I hope my enthusiasm for life is contagious and my subtle jokes have you smiling from ear to ear. I am a certified Florida master Naturalist and a certified Shell Ambassador. I have a Bachelor degree in Liberal Arts, and am also a certified yoga instructor and certified SUP yoga instructor.  I have a lot of passion and knowledge about the wildlife and ecosystems around Fort Myers Beach and will do my best to contribute to you having a memorable and fun experience with us!