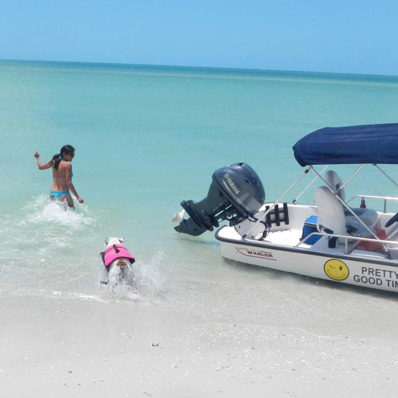 Captain Cristina
Hey! I'm Cristina and am a Florida native originally from Jacksonville, Fl. I do my best to make you feel like you are going boating with friends when you are on my tour. I began developing eco tours for Good Time Charters in 2006 with a goal and mission to offer authentic eco tour experiences, that educate the public in a fun and affordable way. I also own Everglades Adventure, Paradise Charters, and Fort Myers Beach Yoga llc so I stay very busy but love what I do. I have a degree in Biology from the University of North Fl, conducted most of my research in the FL Keys and the Bahamas, and worked for local and state govt agencies for a total of 9 yrs during which time I got transferred here to Fort Myers Beach. I love to travel often, and have been to most of the States, as well as abroad to Costa Rica, Honduras, Cuba, Ecuador, Peru, Chile, Australia, British Columbia, Puerto Rico and the Family Bahamian Islands.
I began guiding in 2004 and guide our Coastal Sealife shelling and dolphin Fort Myers Beach tours, and Paddling trips. I also answer calls, emails, handle our marketing, crew schedules, schedule routine engine maintenance, pay our bills, and well, I could go on all day. Crowned Buzzard Queen 2006 of Goodland, FL, I am also a certified Florida Master Naturalist, a registered Yoga teacher, certified Stand-Up Paddleboard Yoga fitness instructor, and volunteer with local biologists in Estero bay to conduct rookery monitoring as well as volunteer on local Environmental Advisory committees. I have a candid sense of humor, am told I'm a wealth of knowledge about the local fish, wildlife, and environment, and make for a fun and insightful experience!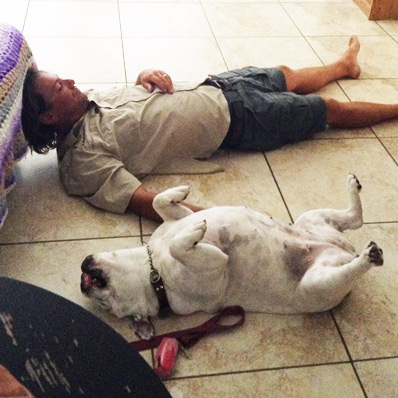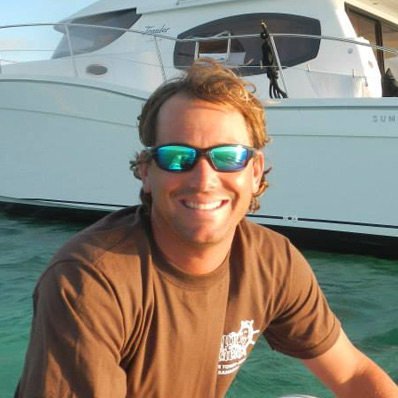 Captain Mike
Hey everybody! I am originally from Connecticut, and am a former Coast Guardsman. I worked on an ice breaker in New York Harbor before getting a transfer here to defrost on Ft Myers Beach as part of the Search and Rescue team. After my service with the Coast Guard I decided to stay in Fort Myers Beach. I began guiding in 2003 and am our primary fishing guide. I am a certified Coastal Florida Master Naturalist and am a closet birder lol. Over the years, I have been fortunate to have built up a long list of clients and many return customers. I now book up months in advance and love what I do!
The community votes me best backwater fishing guide in Ft Myers Beach and I love to take out kids to get them outside. My patience and hard working ethic contributes to my success as a guide and I work great with all ages and skill levels. I am very knowledgeable of the local waterways and wildlife and will to my best to provide you and your family with an experience that you will cherish for a lifetime.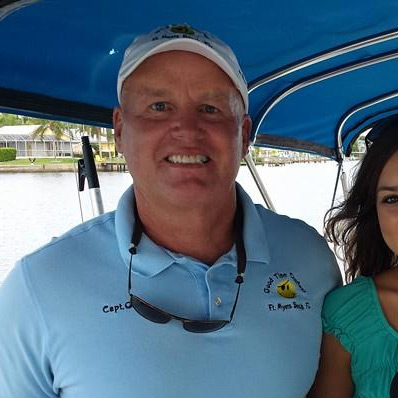 Captain Gale
Hi There! I'm Captain Gale and am a retired Iowa Department of Natural Resources park ranger with 33 years experience in boating safety enforcement, natural resource interpretation and state parks management. I have a degree in Public Administration and am a graduate of the Iowa State Law Enforcement Academy. I am also a certified Florida Master Naturalist. My wife and I love to travel and have completed America's Great Loop, sailing over 7,000 miles around the eastern half of the United States and Canada aboard our sailing catamaran, The Blue Heron. Some of our favorite cruising areas include Canada's North Channel, Georgian Bay, the eastern shore of Lake Michigan, the Chesapeake Bay, the Florida Gulf Coast, the Bahamas, Jamaica, a Panama Canal transit, Costa Rica, Mexico and California. I also enjoy fishing, and practicing yoga with my wife Maureen. You should see my one-handed crow pose haha! I run our dolphin tours and have a real passion for the local wildlife and ecosystems. I truly enjoy sharing my knowledge of the local flora and fauna with you. Join me for a cruise, sit back and relax, and enjoy the beauty of the area.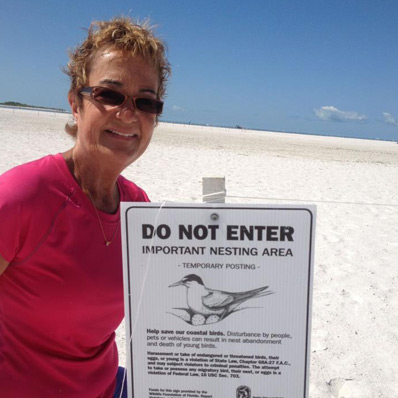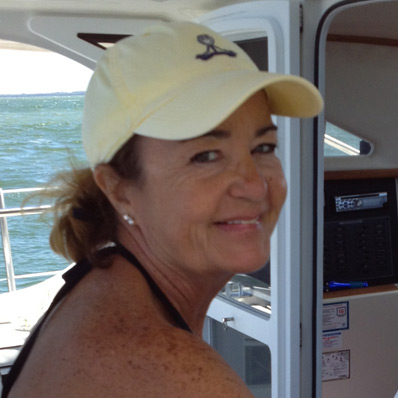 Captain Maureen
Hello. I'm Maureen- also known as Captain Mo, and Mo' Gator. I found myself falling in love with Fort Myers Beach when my husband and I spent the better portion of three winters here while living aboard our boat, Blue Heron. Fort Myers Beach reminds me of the little tourist town I grew up in back in North Iowa — except that the sun is almost always shining here and you never have to shovel snow! I am a graduate of Iowa State University and enjoy a fulfilling career as a CPA before selling my business and retiring in 2008. I have worn many other hats over the years including firefighter, paramedic, yoga teacher and, more recently, Captain, Florida Master Naturalist and certified standup paddleboard yoga instructor. I am one of the faces you may see if you stop by our office in the Ship's Store at Snook Bight Marina or I may be the one you talk to when you make your tour reservations over the phone. If you are looking for a fitness experience on a paddleboard, I would love to lead you through a challenging and fun yoga paddleboard class!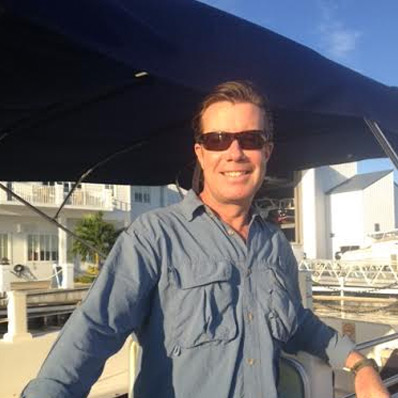 Captain Steve
How is everyone? I'm Steve. I'm originally from Chicago, and attended Columbia College where I studied photography. I moved to Southwest Florida in 1989 and have been learning about, and enjoying the local waters ever since! I enjoy nature, cooking, seeking out good food, and the simple things in life. I also enjoy traveling and learning more about the world, cultures, and meeting new people. I am very passionate about our estuaries and our wildlife, and love to share my knowledge and interpretation of it all with you. I am currently furthering my education and obtaining my Florida Master Naturalist Certification. I have a witty sense of humor and love to make people laugh. I have been guiding in Fort Myers Beach since 2004 and love being on team "Good Times"!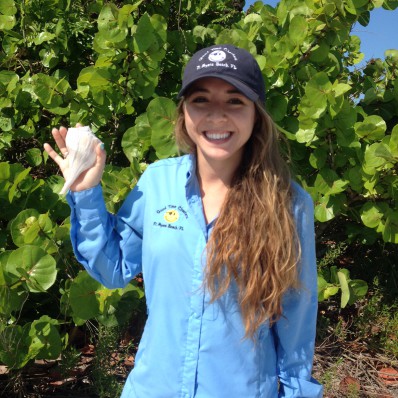 Andrea
Hello friends! I am a Biologist from the city of Brazil, Indiana. I graduated from Indiana University in 2012 with a Bachelor of Science degree in Biology and a Certificate in Underwater Resources Management. While achieving my degree, I studied abroad in Bayahibe, Dominican Republic where I performed biological assessments on several underwater archaeological sites, including the Captain Kidd shipwreck. Upon returning from my studies abroad, I continued working with the IU Office of Underwater Science in their "Living Museums of the Sea" exhibit at the Indianapolis Children's Museum. In June 2014, I moved to Fort Myers and accepted an internship at Ostego Bay Marine Science Center, teaching the children's marine science summer camp, at which time I also began working as an eco-tour guide in Estero Bay. I am Rescue Diver certified and have completed the Coastal Systems Florida Master Naturalist course through the University of Florida. I am well versed in local flora and fauna and would love to help you experience the beauty of Estero Bay!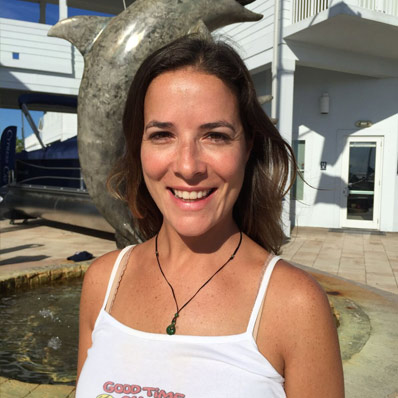 Capt Laura
Hey guys! I am originally from Connecticut and grew up going to the beaches on Long Island Sound. Once I started visiting my brother on Fort Myers Beach, I completely fell in love with the all things SWFL. In 2010 I made the decision to make the move to live where I vacationed!
I love to travel, paddle, laugh and meet new people. I hope my enthusiasm for life is contagious and my subtle jokes have you smiling from ear to ear. I am a certified Florida master Naturalist and a certified Shell Ambassador. I have a Bachelor degree in Liberal Arts, and am also a certified yoga instructor and certified SUP yoga instructor.  I have a lot of passion and knowledge about the wildlife and ecosystems around Fort Myers Beach and will do my best to contribute to you having a memorable and fun experience with us!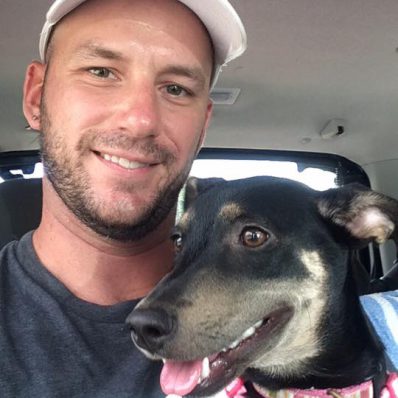 Capt Ty
Hi everyone! I'm Captain Ty. I grew up in Bath, NY then studied abroad in Barcelona, Spain where I graduated with a degree in Language and International Trade from SUNY Oswego. I was on the NCAA competitive Diving team and was also a high school diving coach and substitute teacher for Oswego School District.
After college I lived in Myrtle Beach…. Became an investment banker in Charlotte, NC. Worked nights teaching scuba diving and swim lessons. My real passion is teaching and underwater & environmental conservation.
I quit banking and became an SSI scuba instructor. I went diving and traveling all over the world in places like NC, VA, CA, Bahamas, Carolina Coast wrecks, Gainesville & Palm Beach FL, Hawaii, Bonaire, Indonesia, Galapagos Islands, Nicaragua, Costa Rica and 11 countries in Western Europe.
I moved to Australia for all of 2013 where I worked as a dive instructor and deckhand on 2 sailing ships diving every day on the Great Barrier Reef. I lived in my van for 10 months (yes, it was down by the river). Moved to Amsterdam, Netherlands for a couple months. Then, moved to the Virgin Islands for 3 years where I became a PADI dive instructor and also gained my 100t Captain's License. Drove and dove the VI reefs on a 34' diveboat, worked for 3 other awesome charter companies driving private guests around the US and British Virgin Islands on 26-35' powerboats and a 53' motor yacht. Learned how to kiteboard. Adopted an island dog, referred to as a "Coconut Retriever", named Kaia (my world).
Shortly before Hurricane Irma hit the islands, I moved back to Rochester, NY for a bit to be with family. Was a UPS man during an Upstate NY winter, don't ask me why. Spring refused to come so I went to endless summer. Visiting cousins down in Ft. Myers, I found this wonderful job and fell in love with the area now here I am! What better way to spend the day than to take people out looking for dolphins, manatees and enjoying SWFL wildlife??
Thanks for taking the time to get to know me!