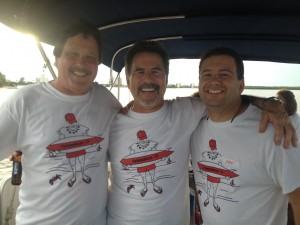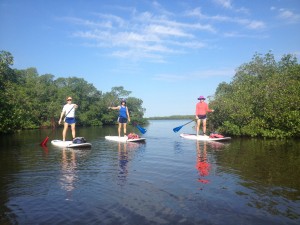 It's October and we are experiencing the best weather all year so far. October is our favorite month of the year here in Fort Myers Beach. Highs in the upper 80s and lows in the lower 70s. WOOHOO! This is perfect weather for boating, fishing, and paddling! The dolphins have been very active feeding and one of our resident groups of dolphin have a new calf!! If you have been on our cruises before, you may be familiar with Floppy's pod, well there is a new calf in the pod now! AHH, they are so cute and playful!!! The other day we sat idle and watched the new calf jumping out of the water, as if to say "Mom, Look what I can do!" We have also been seeing manatees still in good abundance around Fort Myers Beach. The other day we lucked out and found a group of about 5 of them grazing so we sat idle and watched them for a little bit then left them alone to eat in peace.
The mornings have been perfect conditions for Stand Up Paddleboarding. I took out some local ladies paddleboarding yesterday and we saw dolphins and a mother manatee with her calf. If anyone needs a birthday idea we had a local lady book a charter with us as a surprise birthday party for her husband's 60th bday. She even made cool t-shirts for everyone on the charter! I attached a pic of the birthday boy and a couple of his friends sporting the fun t-shirts.
Fishing has been so good and the redfish bite is ON!! Capt Mike has been bringing in some really happy fishermen and women with their catch. Besides redfish, I have also seen snapper, shark, and sheepshead on the cleaning table.
I performed a wedding ceremony a couple weekends ago and the wedding went off without a hitch. The weather was amazing, the water was calm, and the happy couple exchanged some amazing vows. If you need an officiant for your wedding in Fort Myers Beach give us a call. I'm off to clean our aquarium, so like my friend Rusty says, "Peace out, Sauerkraut!" – Capt Cristina and the rest of the Good Time Family